Campos Coffee Wins Major Specialty Coffee Awards
News
The past two months have been a very busy time here at Campos Coffee.
It has also been very rewarding as our Geisha coffees have won the most coffee awards we have ever had the pleasure of roasting. These awards include Gold at the Sydney Fine Food Awards and Gold at Golden Bean North America.
So are these awards a big deal? Well, we wouldn't want to spoil the ending of this article so let's just say yes. Yes, they are. And here's why:
About the Sydney Royal Fine Food Awards
Honouring the tradition of agricultural shows that take place around Australia, the Sydney Royal Fine Food Awards is a nation-wide show of the best produce in the country. The competitions are varied covering gardening, animal rearing, craft and of course, food and beverages.
Out of over 230 roasts in the coffee category, we're proud to say our Finca La Negrita one of just two roasts to take out a prestigious gold award; the highest honour in the coffee category.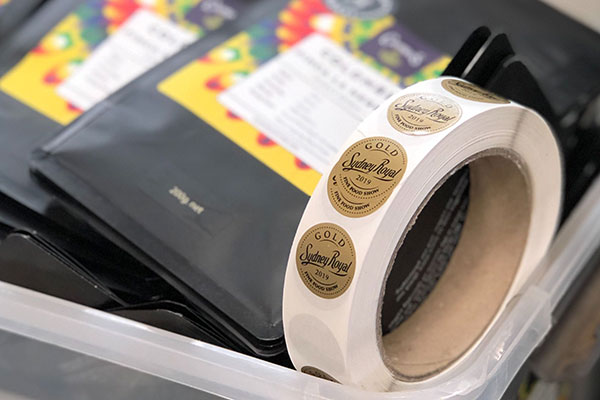 This is a win we share with La Negrita Farm (Finca meaning 'farm' in Spanish) in the Tolima department of Colombia. We have had a close coffee buying relationship with them for many years and have been continually impressed by the fine Geisha beans they are able to cultivate.
What makes this Gold Award so amazing is that our winning Finca La Negrita release was originally roasted as a filter blend, meaning they spent less time in the roasting machine in order to bring out the more delicate flavour notes instead of the darker roast typically used for espresso. Taking out first place in an espresso competition reassures our belief that coffee is a place to experiment and play, regardless of traditional coffee practices.
About the Golden Bean Award
The Golden Bean Award is the world's largest competition for coffee roasters, attracting over 100 coffee businesses during the annual North America competition. Although over 100 coffee roasters enter, there are only 11 categories to compete in, so competition is intense with a small group of specialist judges having the final say.
Campos Coffee has been roasting coffee in Australia since the late '90s, changing the way Australians order, drink and enjoy specialty coffee. Now, almost 20 years after we started roasting, we opened our first roastery and kitchen in Salt Lake City to change the world of American coffee. After entering the 2019 Golden Bean North America Awards, it looks like we're off to a good start!
In the 2019 North America Golden Bean awards, we took out four prizes including a Gold in the Filter Coffee category with our Super Mario Natural Geisha. Our classic Superior Blend received two bronze medals in the Espresso and Milk-Based Espresso categories as well as our decaf blend taking a bronze in the Decaffeinated (Milk Based) category.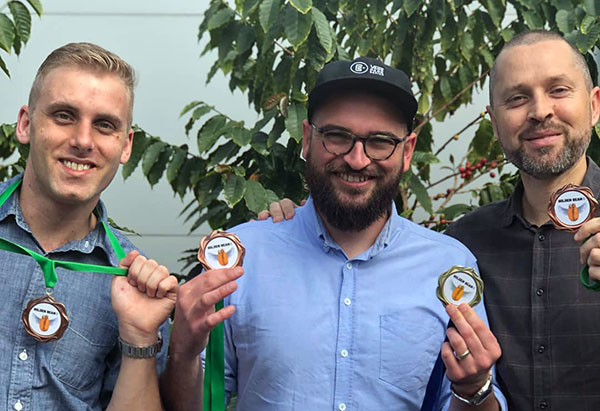 A lot of work went into Super Mario Natural Geisha and it started at the world-renowned Hacienda La Esmeralda in Western Panama. Recognised as the farm that changed the world of specialty coffee, our hat goes off to the owners and operators The Petersons as well as the eponymous cultivator of this lot, Mario.
Special Thanks
We can't finish this post without also giving our thanks to AJ, our head roaster in the USA as well as Jamie Djambazov our head roaster in Sydney. Special shout out to Adam Matheson and Lloyd Thom, our global green bean buyers who personally hand select every lot that enters our roasteries.
However, our biggest shout out goes to you, the specialty coffee drinker. Your interest in this weird and wonderful world has supported competitions like Golden Bean Award and the Sydney Fine Food Awards, pushing coffee producers to try harder and source higher quality beans at a price that allows coffee growers to flourish and thrive.
Seeing as you're such a winner, we hope you get a chance to celebrate with some of our award-winning coffees!
Colombia Finca La Negrita Geisha
Sydney Fine Food Awards Gold
Super Mario Natural Geisha
Golden Bean Gold Medal Filter Coffee
Superior Blend
Bronze Golden Bean Espresso & Espresso Milk Based
Decaffeinated Espresso
Bronze Golden Bean Decaffeinated Milk Based